Can't kick smoking habit?
Can't kick smoking habit? Some are trying acupuncture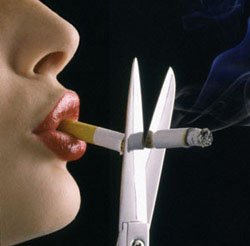 Acupuncture, a form of alternative medicine used to treat everything from back pain to weight control, is becoming more popular as a smoking cessation tool.
Though the idea may conjure up images of protruding needles, Springfield chiropractor Dr. G.T. Daubenspeck uses an electrical stimulator that resembles the instrument physicians use for ear checkups.
"It doesn't hurt," he said. "You may feel a tingle, but there is no pain involved."
Daubenspeck became a licensed acupuncturist a year ago, not long after a law granting chiropractors the option was passed, he said.
He uses the electrical stem unit to stimulate ear points that he says are directly related to the smoking craving.
"The ear points decrease the sensation," Daubenspeck explained. "You're dealing with an addiction, so (the acupuncture) helps take away the craving."
Because smoking is a "two-pronged attack" of craving and habit, Daubenspeck's patients are also instructed on behavioral management to help break the habit of smoking.
"You've got to fight the addiction part and the habit part," he said.
Studies cited by the National Cancer Institute state that success rates for acupuncture are not conclusive.
But Daubenspeck said more and more positive results are coming in about the procedure every day.
"We've always known that it works," he said. "But now we're starting to learn more about why it works."
Daubenspeck said his patients typically have two acupuncture sessions a week for three weeks, at $50 per session.
His clinic at 2141 Park Road has offered acupuncture for about a year, but Daubenspeck hasn't really advertised the addition.
He's had three patients so far who "seem to do well," he added.
By Bridgette Outten, Staff Writer http://www.springfieldnewssun.com